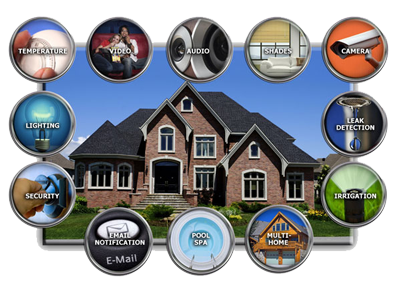 At Mike Blake Custom Homes we want to design and build your dream home! We help you with every detail and desire on your wish list. Many new homeowners are making their dream homes a Smart Home.
A Smart Home or automated home is a house that has devices for controlling security, lighting, temperature, irrigation, multi-media, and other important functions. These devices can be controlled while you're at home and remotely when you're not with a smartphone. In a Smart Home, programs automate the function of the devices around your home for you. Automation gives you, the homeowner, greater control over your home while making it easier and more convenient to manage.
Imagine, you walk out the door in the morning to go to work and arm the security system. This triggers your Smart Home to lock all the doors, turn off all the lights and electronics in your home, and sets your thermostat to a more efficient setting. With a single action, your automated program secures the house and it was as simple as walking out the door.
Call Mike Blake Custom Homes to discuss your dream home wish list!
(903) 878-7270